FAB Fitness
FAB Fitness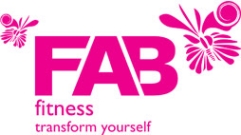 Contact: Mairi Taylor on 07889 255702
Email: transformyourself@fab-fitness.com
or visit the website: www.fab-fitness.com
Here are a few of the things that FAB Fitness offers:
Pilates classes; Kettlercise classes; Massage therapy; Weight management; Personal Trainer; pre and post-natal fitness; Foo foo Fun Club; Biomechanics Coach; Juice Therapy
Classes take place at various venues in Barrow:-
Humphrey Perkins School

Methodist Church

Scout Hut

Ribble Drive
FABfitness is based in Barrow upon Soar and it is my mission to bring 5 star service to your doorstep. I offer fitness for the whole family from 7-70+ with a range of classes to suit all your health and fitness needs. Whether you want time for you, a challenge for your fitness or some quality time with your kids / partner or friends we have something for all your different needs. Classes, 121, group PT and Biomechanics.
I will help you regain your body confidence and improve your body awareness so you are able to make the right choices for you - and most importantly I will show you that exercise is FUN in our small friendly classes set to FAB music which will either chill you out or keep you moving!
FABpilates - FAB 50+ pilates - FABpostnatal pilates - FABbootcamp - FABfamilybootcamp - FABpersonal training 121 or group - FABbiomechanics
Previous page: Core Fitness
Next page: Fit 4 You by Annette Holliday
Last Updated. 10-November-2019 By Keith
---